Roseville Siding Installation & Repair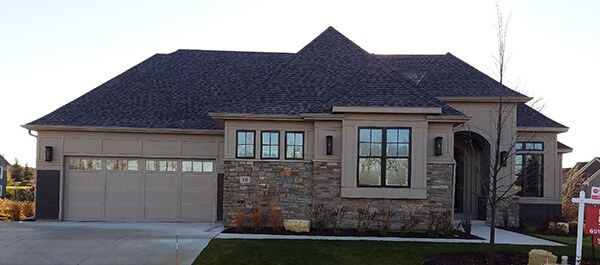 Your home's exterior is there to protect it from the elements, providing curb appeal and increasing the value of your home. That is why it is so important to have the right home exterior for your unique needs. There are many different types of home exterior but the most popular, especially in our region, is siding. Siding comes in various forms, materials and colors and can easily be adapted to whatever style you want. Siding can last for decades, but at some point, may need to be repaired or replaced due to storm damage or natural wear and tear.
So, when you need new siding for your Roseville home, give JTR Roofing a call. Our team of experts can get your home covered with new siding and instantly boost its curb appeal. It will also better protect your home and prevent leaks and other issues that can come from inferior protection.
Our team of siding experts can help with repairs, full replacements and siding for new construction or additions. We can help your home look better and last longer with proper siding installation. We provide free estimates and will answer any questions you may have about siding for your home.
Choices in Siding
There is a wide variety of siding materials to choose from and each come with their own unique benefits. At JTR Roofing we offer only the finest materials for all of your siding needs. Here are a few of the most popular types of siding materials we offer:
Vinyl. This is what most people think of when it comes to new siding. It is durable, comes in many color options and is budget friendly. There are even various options with the look of vinyl siding. It can be installed horizontally or vertically. It can even have scallops. Vinyl is easy to clean and versatile. It's made to last for decades and isn't susceptible to decay or termites.
Wood. Wood siding has been around for quite some time and is seeing a new resurgence in popularity with the latest mid-century inspired home design trends. You can choose between several species of wood as well as different profiles such as bevel, shakes or shingles, board and batten, or engineered wood.
Metal. This material is commonly associated with modern style buildings. The most common types of metal materials for siding are aluminum and steel.
Each material has their pros and cons. It really depends on the look you want for your house, the amount of maintenance you are willing to do, and your budget.
Choosing siding is a big decision. It is something you will likely live with for decades or as long as you own your home. That is why it is so important you only enlist the help of siding professionals like those at JTR Roofing. We can help you choose the best siding material for you and then install is beautifully and professionally.
Contact Us about Siding
When you are ready for new siding on your Roseville home, call JTR Roofing at 651-777-7394 or Contact Us. We will be happy to discuss options and provide you with a free estimate for our services.