Your siding is exposed to the elements 24/7 and with our Minnesota winters, it gets its fair share of wear and tear. You would too, if you were constantly outside, so it's important to take care of your home's exterior. As the experts in siding for Woodbury and the surrounding areas, we would like to offer some winter siding care tips to help keep it looking and performing its best. By taking these proactive measures you can help your siding get through the winter unscathed and keep your home looking healthy.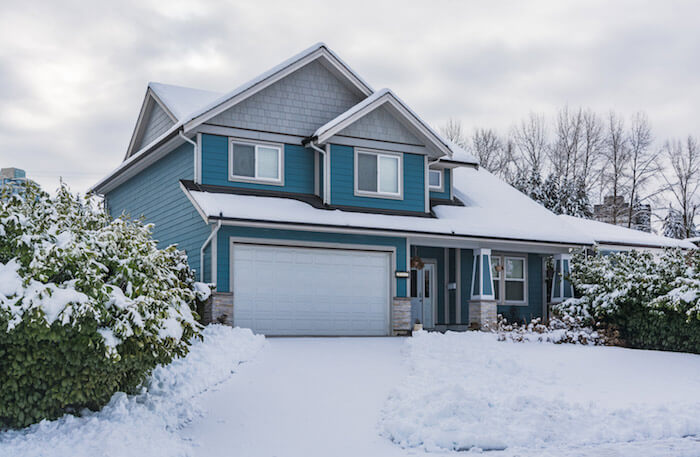 Vinyl Siding
Vinyl is one of the most popular forms of siding, probably in part because it requires a low amount of maintenance. A siding contractor like us knows how to properly install it so it will last for many years. Cleaning vinyl siding is pretty easy. You should clean your vinyl siding about twice a year (preferably during warm weather) using a pressure washer. Mix water and a small amount of laundry detergent and spray it on the vinyl siding with the pressure washer. Be sure to rinse the soap off thoroughly with plain water. This of course should not be done in the winter months. It is best to wait until spring so that nothing freezes.
And remember, don't paint vinyl siding; doing so may void some manufacturers' warranties.
Wood Siding
Wood siding maintenance is a little bit more involved than vinyl. While wood is a beautiful option for your home's exterior, it's still wood, which means it's susceptible to rotting. Water is the enemy of wood siding so keep an eye out for signs of rotting, especially if we see a lot of rain, snow, or ice this winter. Peeling paint is a good indication of rotting wood, so make sure you address those concerns as soon as possible to avoid extreme deterioration.
Cleaning wood siding is also a pretty simple task. You need a bucket of warm water, a mild soap and a soft-bristled brush. Clean each section of your wood siding from top to bottom and be sure to rinse it thoroughly. Wood siding is usually sealed and stained before it is installed. A siding contractor like us will be sure of it. So, you should not have to worry about the wood becoming rotted. But again, it is best to wait until spring to perform the all-important task of cleaning it.
Aluminum Siding
Aluminum siding is a fairly low-maintenance material as well, but you should clean this type of siding the same way you do vinyl. Be sure you never scrape your aluminum siding, and if you have to patch it, use a filler that is made especially for metals.
If you notice any issues with your siding this winter, contact the experts at JTR Roofing as soon as you can. To learn more about siding for your Woodbury area home, call JTR Roofing at 651-777-7394 or Contact Us.