Has your home sustained storm damage? Unfortunately, with the summer comes summer storms that can wreak havoc on your home. If that happens to you, don't delay! Hiring a company for storm damage repair in Oakdale as soon as possible is imperative! However, hiring the right company for you is also important – so check out these tips on how to find the right company to handle your storm damage repair!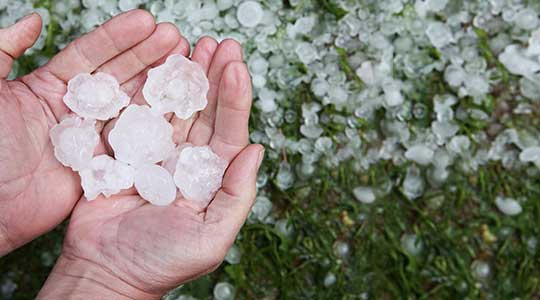 Get Multiple Estimates
The first step to making sure that you are finding the right company is to field multiple options. By getting multiple estimates, you can not only get a feel for how different companies communicate, but you can also get an idea of the price range that you are looking at for repairs.
Compare Prices
Next, once you have those estimates, compare prices! While going with the cheapest option isn't always the best choice, you can compare the costs and what is included in each estimate. Pricing shouldn't be the only determining factor for the company you choose though.
Read Reviews or Testimonials
Now that you have a better idea of pricing and have possibly ruled a few companies out, check out their reviews or testimonials. Positive reviews and testimonials are a good sign that the company you are looking at hiring knows what they are doing.
You could also ask any neighbors, friends or family who have experienced storm damage in the area who they would trust.
Confirm They're Licensed & Insured
As you continue to narrow down your choices, don't forget to confirm that the companies you are considering are licensed and insured. If they aren't, that means that any liability falls to you and that you may be hiring a company who doesn't know what they are doing.
Ask Questions
Don't be afraid to ask questions! Ask about their previous experience with similar jobs, what their experience working with insurance companies is, how long they have been in business, what guarantees or warranties they offer, anything that you can think of that's related to your repairs! A reputable company should be able to answer these questions with ease.
Listen to Your Gut
If the company you think you want to work with doesn't seem professional, can't answer your questions, or takes too long to respond – maybe they aren't the best fit for you. If you notice any red flags during the beginning of the process, listen to your gut, as it may be trying to warn you that the company you are considering doesn't have your best interests at heart.
This is especially important after major storms. Sometimes companies will travel in, sending salespeople door to door trying to make a quick buck off you. However, a local company like JTR Roofing has a strong local reputation to uphold and won't disappear on you when you need us.
When you need storm damage repair in Oakdale, these are just a few tips to make sure you are choosing the right company for you. Call JTR Roofing today at 651-777-7394 or contact us!